Mason jars are trendy and inexpensive decor options to hold flowers, photo booth props, table numbers, bouquets, or any other decoration you might be using at your wedding. We used them to hold a little baby's breath on our cocktail tables. They also help photo booth props and pens near our guest book. These jars are fairly simple and only take an afternoon.
You will need:
1-quart mason jars, like these: Ball Mason Wide Mouth Quart Jars with Lids and Bands, Set of 12
Gold spray paint. I used this: Liquitex Professional Spray Paint 12-oz, Iridescent Antique Gold
A jar of Mod Podge, like this: Mod Podge Waterbase Sealer, Glue and Finish (16-Ounce), CS11302 Matte Finish
Foam brush (to apply the Mod Podge)
Krylon clear finish spray, matte or gloss, your preference. Krylon 11-Ounce Low Odor Clear Matte Finish Aerosol Spray
Blue painter's tape
Glitter. I used a 1:1 ratio of silver and gold.
Dish gloves, optional.
Cardboard box, optional.
The first step is to spray paint the jars. We used a cardboard box as a backdrop to prevent blowing paint in the driveway. I put on a long rubber dish glove on the hand that I put in the mouth of the jar while spraying. Be sure to hold the spray paint can far enough from the jar to prevent dripping – about 10 inches. We sprayed each jar with a first coat, let it dry, and then sprayed again to prevent the paint from becoming too thick and dripping.
When the jars are completely dry, get ready to tape off the bottom of the jar for glitter. It's important to line the tap up level on the front face so that when it wraps around, it meets up evenly on the back. Be sure to press the tape firmly to create a seal. When lining up the tape, I put the bottom edge of the blue tape about a half and inch below the "Self Sealing" text on the front of the jar.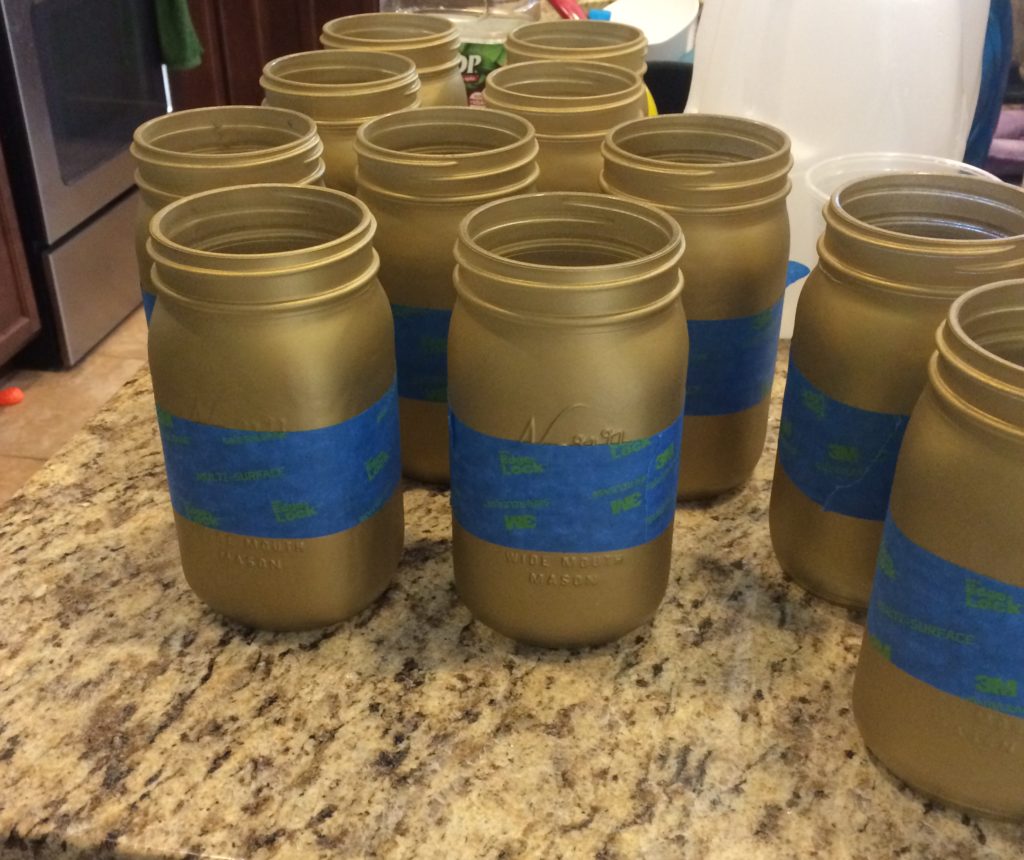 Paint the bottom portion of the jar with Mod Podge and quickly sprinkle/pour the glitter over the wet areas (over a paper plate, box, tray, etc.), turning the jar as you pour to coat all areas. Gently tap the top of the jar with your hand to release loose glitter.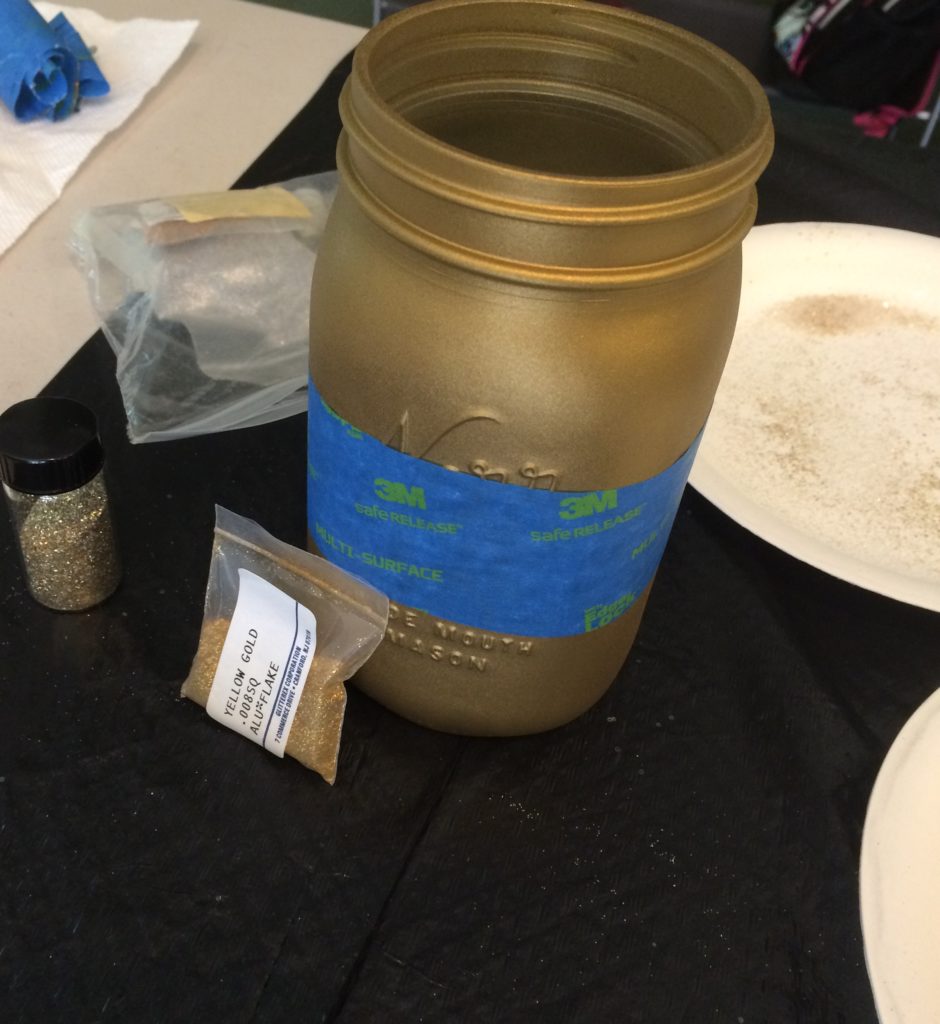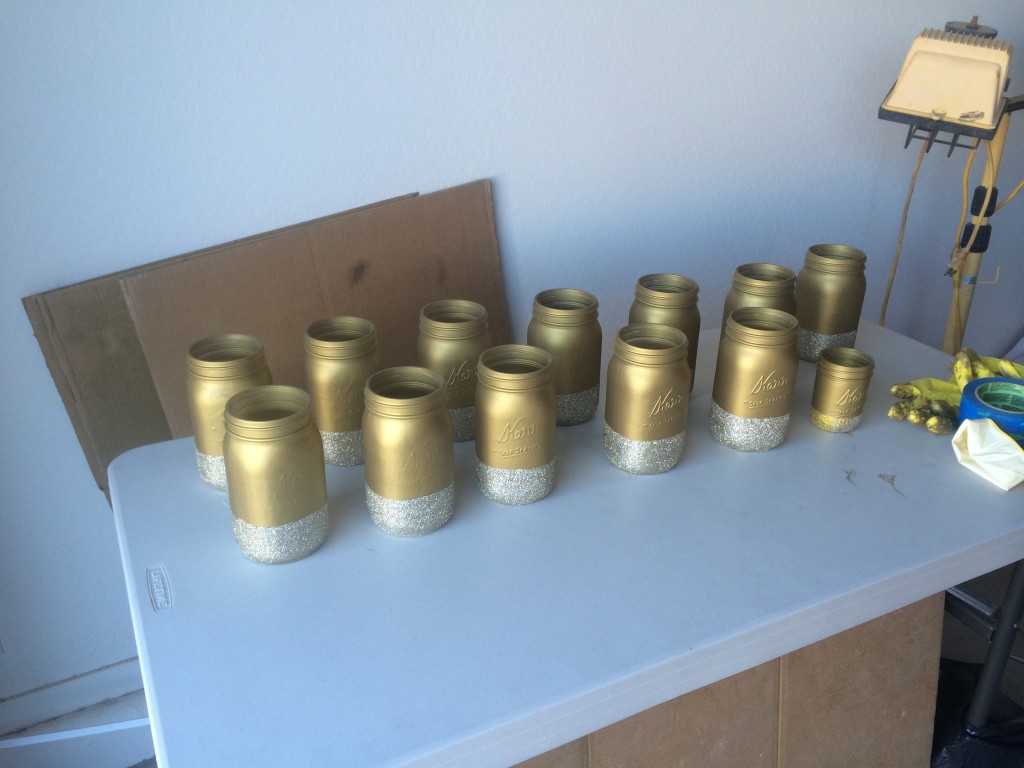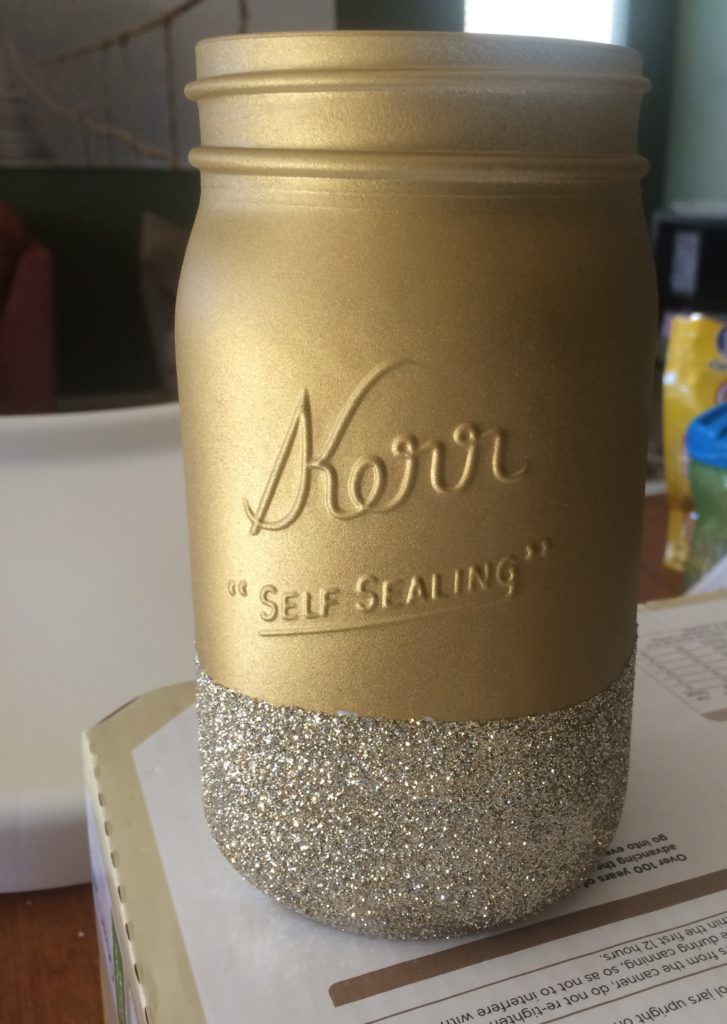 When you are finished glitter-ifying all of the jars, give them a quick spray coat with the Krylon clear finish spray. This will help set the glitter and prevent it from rubbing off.
Voila!