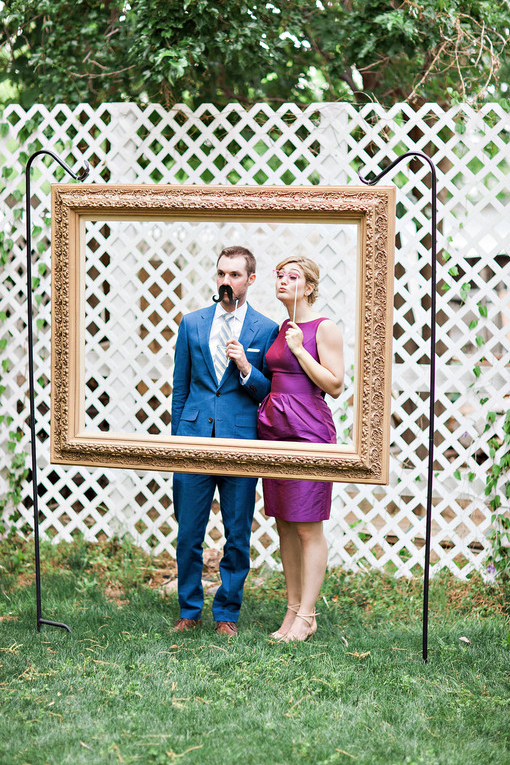 Who doesn't love a photo booth? I wanted to capture as many moments as possible at my wedding but did not want to pay for a giant, bulky, boxy photo booth (they can cost $1000+). I searched around for some DIY options on Pinterest and really liked the idea of using a large hanging frame. I think it fit the look and feel of our wedding and in general, was not too difficult to setup. Essentially, you need a large frame, something to hang it from, a camera (preferably on a tripod), and some props (optional). [PHOTO CREDITS: Pinkerton Photography]
Frame
We borrowed a large piece of artwork that our neighbor had leftover from a charity auction. I detached the art from the frame and voila! I've also seen these types of open back frames at Michael's and on Amazon. Or, you could always check out OfferUp and Craigslist for a large piece of art that you can ditch and keep the frame (always meet in a neutral location, just lookin' out).
Something to hang it from
I would suggest using two metal shepherd hook style poles that can be driven into the ground. These are the exact ones we purchased: Achla Designs TSW-27 91-Inch Single Pole
. We created two metal wire loops using picture hanging wire and triangle D-rings screwed into the back of the frame.
When you put the metal poles in the ground be sure to have them facing each other so the two hook parts on the top protrude toward each other (see picture). We first had both of the hook parts facing forward but the poles bend slightly toward the middle and were less sturdy.
If you don't want to go the metal pole in the ground route, or maybe you want to use this setup inside where you can't drive something into the ground, you could always create a structure out of PVC pipe. Doing a quick Google search, I found this DIY article on building a frame for a backdrop. You could modify this plan to hold a frame. You could also create this backdrop in addition to using the metal poles to control what is in the background of photo booth pictures. You could cover it with fabric, hang streamers, create paper flower garland…the sky is the limit!
A camera
I used my old Nikon DSLR on a sturdy tripod. The key was using a wireless remote (bought this Nikon one from Amazon
) that I tied to the picture frame so those "in the booth" could take photos from there.
I wrote up some instructions for my specific camera. In particular, my camera had to be on wireless remote mode for this setup to work.
Make sure you test the remote to be sure you know which mode your camera should be on.
Props
There are a ton of resources all over the internet for printable templates and cutting files for props. We used mustaches, glasses, lips, and I made some little mini chalkboards using chipboard and chalkboard paint some guests could write messages to show in their pictures. If you are interested in the props I made, let me know!