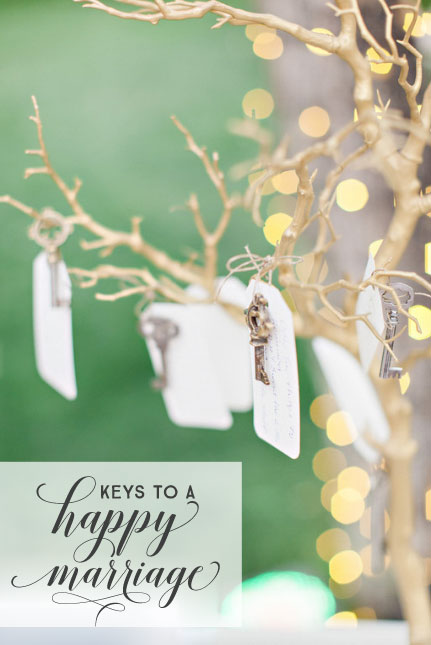 I've had a collection of antique keys for a while and knew they would fit the theme and aesthetic of my romantic garden party wedding. I had seen some ideas floating around for using keys, particularly using them to solicit wedding advice, hence "Keys to a Happy Marriage." A bunch of ideas in my head jumbled together and my gold-tree-with-hanging-antique-keys idea was born. [PHOTO CREDITS: Pinkerton Photography]
The basic idea was to have antique keys with tags tied to them. Guests could pick a key and write a piece of marital advice – funny or serious – and hang it in the tree. Encouraging guests to participate in this activity is not only fun for them but also yields keepsakes you can treasure and look back upon for years. I've read the advice left on these keys over and over to have a laugh, a cry, or just to reminisce about that day (and perhaps wonder how on earth a year has already passed).
List of Materials:
Manzanita branch (I bought this artificial one from Save on Crafts)
Large tree slice (Extra large slice, also bought from Save on Crafts))
Moss (such as this)
Tags (from Michael's)
Antique keys (purchased over the years from Ebay. You could also purchase replicas for much cheaper, such as this: Set of 30 Vintage Skeleton Keys)
Twine (to tie the tags to keys)
Gold spray paint (I use this Liquitex Professional Spray Paint but as I think I've mentioned elsewhere, the nozzle clogs. The paint itself is excellent, but purchase extra nozzles to replace it for each use.)
---
UPDATE: Purchase signage and tag template from my etsy shop.
---
Other Tools:
Hot glue gun and glue
Power drill
Drop cloths (to spray paint the manzanita)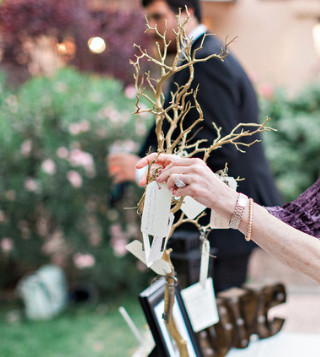 How to
Making the tree is the majority of the assembly of this project. Spray paint the manzanita branch gold first. It might require a couple of coats to ensure you cover all of the small branches and sides. I wedged the base of the branch between a few heavy rocks to hold it upright so I could walk around and spray it from all sides. The bottom of the branch does not need to be painted perfectly since it will be inserted into the tree slice.
After the brand is painted and dry, drill a hole in the tree slice to match the diameter of the base of the branch. Ideally, you want it to fit snugly so you don't need as much glue. Insert the branch in the tree slice hole and fill in any gaps with hot glue. It should stand easily on its own at this point. The weight of the tree slice should keep it from tipping. Be sure the branch stands up evenly in the hole or however you want it to look – stand back and assess before the glue dries.
Affix moss to the top of the tree slice using hot glue. You can also cover part way around the "trunk" of your tree to cover the hole and any parts of the trunk that were not painted perfectly.
Tie tags to each of the keys neatly. I chose to tie each in a bow.
Arrange the keys in a jar or on the base of the trunk however you'd like. I printed out a small sign explaining what to do and put it in a frame. Don't forget to include pens!