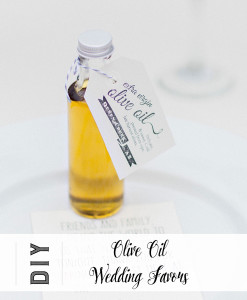 I firmly believe that a food item is the best wedding favor. Your guests will most likely use it instead of tossing it in the junk drawer – or worse – the garbage. Who wants to spend money on a favor their guests will ultimately throw away?
I wanted our favors to be special, as I'm sure most people do, so Chris and I decided on a food item that is uniquely Arizona.
All in all, we ended up spending around $280 or about $3.75 per favor including the cost of the rubber stamp. It took the two of us about 3 hours to make 75 favors.
Olive Oil
The Queen Creek Olive mill is a local grower and producer of pesticide-free olive oil.  Arizona's arid and extremely hot climate allows the Olive Mill to produce olive oil without pesticides because the main pests cannot survive the Arizona heat.
We purchased two gallons of delicate, extra virgin olive oil right from their store in Queen Creek.
Containers
We purchased 3.4 oz bottles from Freund Container. We chose this size so that our guests could pack them in their carry-on luggage. I had never purchased anything from them before but am happy with their product, prices, and packaging. The bottles arrived nicely packaged and we were able to easily reuse the boxes and dividers to transport the full bottles to and from our venue.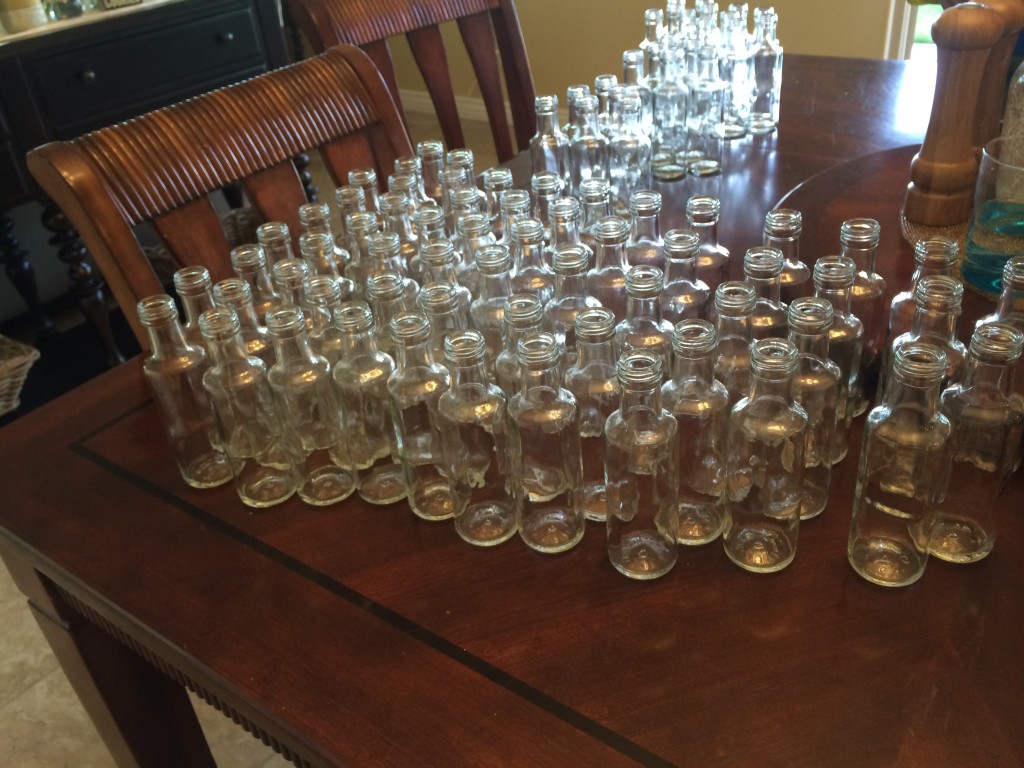 Filling Process
We had all kinds of ideas for filling the bottles. Initially, we were going to use a funnel and just move the funnel from bottle to bottle. It quickly became apparent that that process was both messy and inefficient. So much of the olive oil dripped from the gallon container and from the funnel each time we moved it. Then we thought about putting the olive oil into smaller squeeze bottles (like these: ChefLand Squeeze Bottles
). However, that was just a waste of time and was just as messy.
Ultimately, we decided to just use the tops from those squeeze bottles and put them right on the gallon oil containers. Eureka! The gallon jugs were heavy at first, but much more manageable and quicker than the other methods.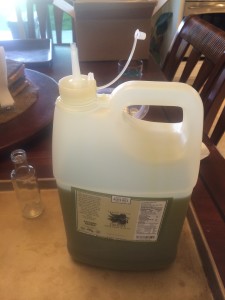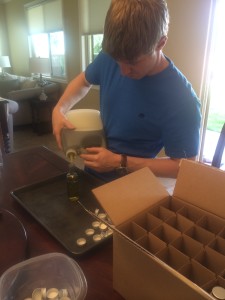 Olive Oil Hang Tags
After all of this work, I wanted our wedding guests to know about this special olive oil and so I designed a hang tag. I wanted the tags to have a vintage, hand-made feel so instead of printing directly on them, I ordered a custom rubber stamp from rubberstamps.net.
Again, I did not have any experience with this retailer but am very impressed with their products. I'm honestly looking for reasons/occasions to design and order more!
We stamped all of the tags (found at Michaels), let them dry, and then tied them around the necks of all the bottles. I used this baker's twine I found on Amazon: Bakers Twine – (Grey & White)