Escort cards are a perfect and simple DIY wedding project that don't have to be a huge investment in time. Trends right now for providing this information to your guests include:
A framed piece on an easel with all of the information for guests to see. My favorites are old windows with writing directly on the panes or a matted and framed cards.
Separate cards that guests can take with them to their seats. I love the use of succulents or gold accents here. I used a version of this format using moss, a wooden tray, and metal card holders.
Check out my Pinterest board for wedding escort card/wedding seating chart inspiration.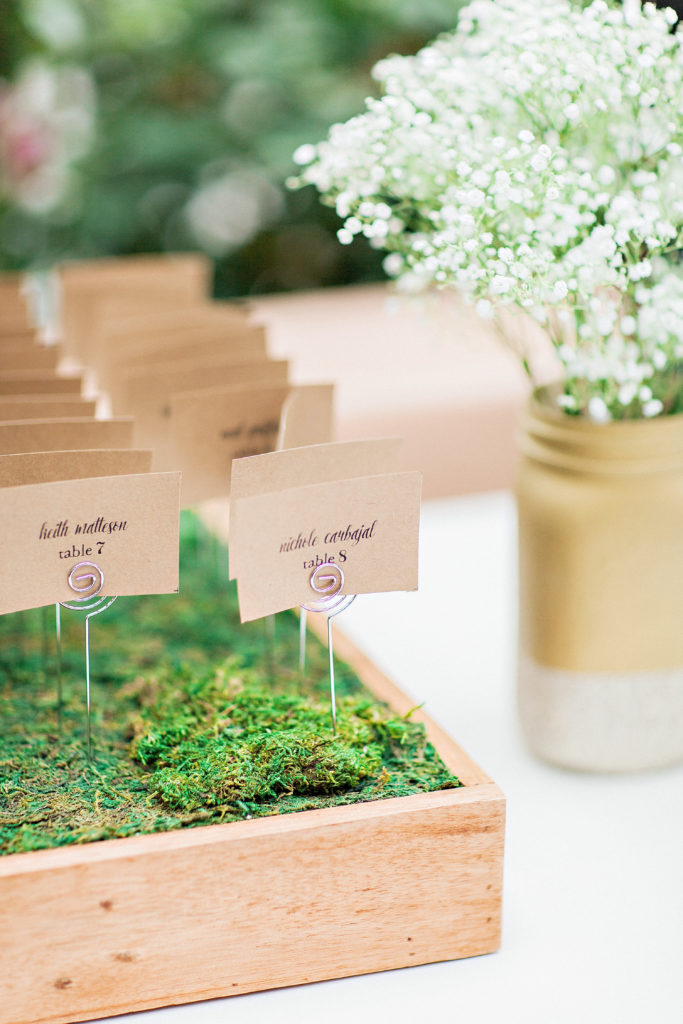 For my wedding, I kept with the natural tones and elements, using a wooden tray and moss with brown kraft paper. This project is very simple and only requires a few materials, including:
To assemble, cut the pieces of craft foam to fit in one layer inside the tray. You want it to fit tightly and fill all gaps. Roll out the moss sheet and cut to fit and cover the foam. Use pins to press and attach the moss sheet to the foam. I also added little mounds of loose moss in random spots and attached with pins. Insert the card holders in rows to represent each table.
[PHOTO CREDITS: 
Pinkerton Photography
]